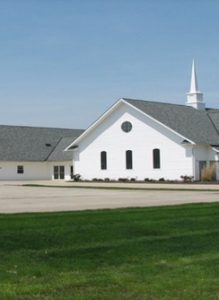 Time and Location
We offer bible study classes for all ages at 9:00am and a worship service starting at 10:30am. Our church is located at the corner of 2756 Stony Hill Rd & Ledge Rd and about 3-5 minutes from I-71 or 5-10 minutes from I-271. The Map in the section below shows where the church is located in relation to major routes.
Guest Experience
Our guest services team is excited to meet you. Please let us know at anytime during your visit if you have any special needs, requests, or just have questions.
Attire
Wear what you normally wear. We want you to feel comfortable!
Worship
The worship service typically lasts about an hour. We feature music from contemporary Christian artists and similar music such as Chris Tomlin, Matt Redman, Hillsong, Passion, and Kristian Stanfill.
Children's Ministry
We offer an environment that is safe, welcoming and age appropriate for each child. Sunday school for children and Bible Studies for youth begin at 9:00am. If you are interested in visiting and you have a child with special needs, please contact us at the church office (330) 723-1750 so we can be prepared for your visit.
Location
2756 Stony Hill Rd.
Medina, OH 44256

GUEST RECEPTION
Every Sunday following the worship service. We offer some refreshments in our community room and a chance for you to take some time to get to know us. It's also a great time to ask us any questions you may have about WCC.
WANT TO KNOW MORE ABOUT WEYMOUTH?
Want to know more about what we do here at WCC? Ever wonder what we mean when we say "Taking the Next Step"? If you have thought about questions like these then the Discovering Weymouth class is the next step for you. Our Discovering Weymouth class explores WCC inside and out, giving you the inside track on why we do what we do and how we do it.
The Discovering Weymouth class is offered at various times during the year. Typically, the class is 4 hours in length (one Sunday afternoon) and lunch is provided. If you are interested in taking our Discovering Weymouth class, please contact the church office by phone or email.